Class Schedule at MaMA
Sunday 10:00am – 11:30am
Tuesday 4:15pm – 5:00pm
Friday 9:30am -11:00am
Saturday 9:30am -11:00am
Saturday 11:00am – 12:30pm
Intermediate Vinyasa
All-level Community Class (donation)
Mixed-level Vinyasa
Intermediate Vinyasa
Slow Flow Align
Sign up for classes now!
Intermediate Level is suitable for students who have an established practice, know the vocabulary and how to monitor themselves and modify postures as needed in a class situation. The focus is on dynamic and unique sequencing. Find your own depth in more advanced asanas. Come prepared to move and enjoy!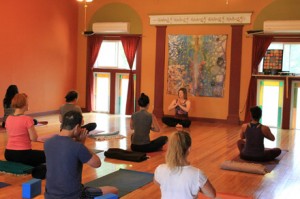 Mixed Level is appropriate for newer practitioners as well as students who are more advanced. More structural and alignment details are included to help establish intelligence in movement.
Community Class is a slower sequence of asanas geared toward winding down between work and home. This light, fun class is suitable for all levels.
Slow Flow Align is suitable for all levels. It is an alignment oriented class and moves slowly with great detail and focus.
Above all, Anne believes yoga should not be cost prohibitive and is willing to work out a solution whenever there is a need. If needed please don't hesitate to ask.
Yoga has been proven to alleviate symptoms of Post Traumatic Stress Disorder, and any veteran suffering with PTSD is welcome to schedule private or semi private yoga, meditation and deep relaxation classes with Anne free of charge. Members of their family are also welcome in these sessions. Anne is honored to support all veterans regardless of age or challenges.
In support of our nation's veterans, all Violet Moon Yoga classes are offered free of charge to returning service men and women.
Share This