Anne Robinson has over 20 years of teaching experience in the fields of dance and yoga. She performed and taught modern dance in Chicago and NYC for many years before becoming certified to teach yoga and meditation at the Integral Yoga Institute in NYC. She has studied extensively with Shiva Rea and Yoga Works, prenatal yoga at Kripalu and advanced anatomy for yoga and yoga therapy with Leslie Kaminoff at The Breathing Project. Her dance and movement training includes Horton, Laban, Body-Mind Centering and Ballet.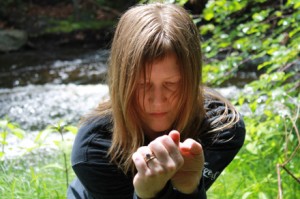 Her personal practice continues with Shiva Rea, Iyengar, Horton technique classes and meditation on The Radiance Sutras. Anne has had many wonderful teachers in life, dance and yoga and hopes to pass on their energy, love, grace and compassion.
Hatha, the physical practice of yoga, is a vehicle towards self-awareness. As Iyengar says, "Health begins with firmness in the body, deepens to emotional stability, then leads to intellectual clarity, wisdom and finally the unveiling of the soul … . We work with the body to perfect the soul." As we deepen and connect with ourselves through the practice of hatha yoga, we let go of physical, mental and emotional habits that are uneccessary. Yoga starts with the physical and ultimately takes the practitioner to a much deeper level of experience.
Whether you are visiting Stone Ridge or High Falls in beautiful Ulster County, or live in the Hudson Valley full or part time, the place to be for yoga is in Anne's class in the choir loft of the 19th century church that is now MaMA. Anne has created her own unique style of rigorous and fun vinyasa flow that inspires all levels of practitioners. The classes, conducted at a steady but fluid pace, allow each student their own unique experience.
Anne also has an extensive private clientele ranging from farmers to celebrities in the Hudson Valley and NYC. In home private instruction whether Upstate or down is a gift that keeps on giving.
Private classes in either yoga or meditation give both instructor and student greater access to guidance that deepens and expands their individual practice. Anne has worked in injury rehabilitation and with every level from beginning to advanced. Her experience ranges from leading children's creative movement to designing programs for seniors, athletes and actors. Prenatal yoga is also available to women throughout their pregnancy.
Weekly sessions are available. Please contact Anne to schedule your session now!
anne@violetmoonyoga.com
Share This